Our Recent Top 10 List of Studio Ghibli Films got me thinking about animated films that get mistaken for Studio Ghibli films when they're actually by another studio.
I've come up with 62 animated movies you might think are by Studio Ghibli, but are actually by another studio.
This list is not ranked in whether or not I enjoyed the particular films in question, but instead, it is ranked on how similar I felt that either their stories, characters, or art and animation style were to that of Studio Ghibli.
Update: this has been a draft since May, I was maybe too overly ambitious, I will publish what I have, and perhaps update this in the future.
Bonus: 0. Mary and The Witch's Flower
Before we begin the list, I'd like to mention Mary and the Witch's Flower – I have not yet watched it, but it was heavily Promoted at the Gkids Ghibli Fest and as anyone can see, the animation style and story are very similar to Studio Ghibli and brings up memories especially of Kiki's Delivery Service. It is however, also not a Ghibli film, as it was directed by Hiromasa Yonebayashi and produced by Studio Ponoc. Including Mary and the Witch's Flower actually brings our list up to 51 movies. Hey, bonus, right? 🙂 How many of these feature length anime movies have you watched?
Edit: I did finally see Marry and the Witch's Flower. It's cute and heart warming and awesome and very much like a studio Ghibli film.
---
1. Nausicaa Valley of the Wind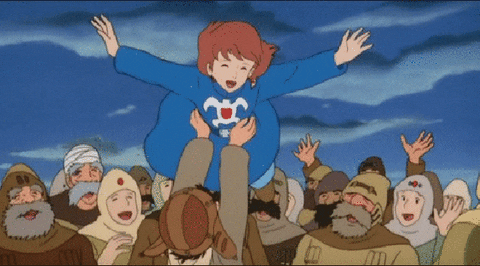 Clearly the most common case of mistaken identity comes from Nausicaa Valley of the Wind – Even I thought it was a Ghibli Film, especially since Gkids included it in their Ghibli Fest and it's been included as part of the Ghibli collection of Bluray and DVDs. The film is by Hayao Miyazaki, but it was done prior to the formation of Studio Ghibli, back when Miyazaki was part of an anime studio known as Topcraft. – Interesting Tidbit – Topcraft did a lot of the animation for 80s cartoons that I grew up with such as my all time fave, The Last Unicorn, as well as The Hobbit and Flight of the Dragons – and many of the christmas specials I remember too such as Frosty and The Night Before Christmas. — I feel inspiration for another top 10 post now LOL… These things will never end 🙂 Hope you like reading them – when I've ran out of Studios to rank, I'll compile a big list of ranked films amongst all the studios. Please look forward to it! lol.
---
2. Wolf Children
Wolf Children nabs our second spot on the list of films people commonly mistake for Studio Ghibli movies. Wolf Children is also my favorite anime "movie" (stand alone production that is not a series). That's right, my favorite anime movie is not even a Studio Ghibli film. Gasp :). It has the same animation style, and most importantly, same types of characters and story that would fit right in with any Ghibli production. I reviewed Wolf Children here if you'd like to learn more about this anime. I highly recommend it. I've watched it at least 12 times now. I actually just watched it again lastnight, no lie lol.
I also recommend if you have watched Wolf Children that you may like Wolf's Rain, a short fantasy series about wolves as well. Wolf's Rain was just re-released last week on Bluray/DVD so the prices and availability of it should be fair right now. I have the complete set that I bought some years ago. It's a dark and gritty series, but very interesting. I also hear Spice and Wolf is an excellent romance anime but I have not watched it yet.
Wolf Children was written by Mamoru Hosoda and he formed Studio Chizu to produce this film. His other directorial roles include The Girl Who Leapt Through Time and The Boy and the Beast. His latest film is Mirai of the Future which is about a girl who travels back in time to visit her older brother at a point in time before she herself would have been born. This film has yet to be released but has already been licensed for US distribution. The Japanese version is premiering in July 2018, and an English version should also appear later in 2018.
Clearly you can tell from the Gif that I shared above, Wolf Children is a must watch for all Furries. Even if you're not a Furry though, it's an amazing movie. It focuses on a young woman who falls in love with what could best be described as a Werewolf. Having played World of Darkness Werewolf Tabletop Pen and Paper Roleplaying Games when I was younger, this film also resonated with me, bringing back a lot of fun memories of past gaming campaigns.
What I love about Wolf Children is how the children grow and evolve in the film. In the beginning of the film, the mother asks them a very poignant question: "If you could be only 1 thing, which would you be: Humans or Wolves?" She says she wants to give them the freedom to make that choice for themselves. They move to the countryside, as their wolf-like tendencies were getting them into trouble in the city. After the move, the children are free to run and play and act as wolves… but the children also begin to go to school and live life as human children. The children must decide for themselves which path they wish to take in life. The mother has trouble realizing that her children are growing up and struggles with her decision to let them make their own decisions. In the end, she realizes that she must love and accept her children no matter what choices they make in life – which is a very important and heart warming message for any family. Such as loving your children no matter what, if they're gay, if they marry outside their race, if they accept a job that you believe is beneath their qualifications or pays poorly, etc. You have to let your children go and make their own choices even if you feel that choice is a mistake. Your only job as a parent is to love you children. Not live their lives for them. Very important message which all parents should embrace. That makes this a great family film. Although it doesn't present such "political" or "hot button" topics as I present here in this analysis, it's easy to apply the message of the woman's love for her wolf children and apply that to literally any situation where a parent is struggling to accept something their children have done in real life too! I think that's the strength of this film, it's just so real and relatable to all children and all parents who go through this "power struggle".
---
3. My Summer with Coo
I reviewed My Summer with Coo here. I feel it could be mistaken for a Studio Ghibli film because of the cute animal mascot, the more realistic character designs that look like actual Japanese people, and the heart warming, although at times, dark and creepy story. Studio Ghibli films can also be a little dark and creepy such as Princess Mononoke, or Totoro which is unintentionally dark and creepy in the 2nd half. I'd say Coo shares this same unintentional creepiness also in its second half. And that same juxtaposition between the light hearted first half, and creepyass second half, make it very Totoro-ish.
My Summer with Coo (I've also seen the English title written as "Summer Days With Coo"), is about a young boy who finds a Kappa which is that green creature there. Kappas are actually a "real" mythological creature from Japan. I became interested and fascinated researching Kappas on the internet after watching this film. — Anyways, Summer Days with Coo is about this boy and his Kappa and the adventures they have together. In the beginning, the family wishes to keep Coo a secret, but eventually they give in to pressure from the media and take advantage of Coo by dragging him to talk shows and tv performances. Coo is frightened by the loud crowds and lights in the studio and accidentally freaks out. People deem him to be dangerous, and he goes on a rampage through Tokyo on the back of the family dog while his family is trying to save him, and pretty much the rest of Japan trying to destroy him.
A lot of sad, uplifting, heartwarming things happen, just like they do in any Ghibli film. But this is no Ghibli film. My Summer with Coo is directed by Keiichi Hara, most well known for his director roles in Crayon Shin-Chan and Doraemon. This was his first break out film after joining studio Shin-Ei. His next film, Colorful, also makes my list :).
When I last looked a year or two ago, My Summer with Coo had not yet been licensed for US distribution despite winning numerous awards back in 2008 when it came out in Japan. It has appeared at a few film festivals but to my knowledge has not been picked up for DVD or Bluray Distribution in North America.
---
4. Colorful
Colorful is also by Keiichi Hara (famous for Crayon Shin-Chan and Doraemon) who also directed Summer Days with Coo, above. Colorful is based on a novel by Eto Mori. This film is good, but it's also very hard to watch. I've watched it 2 or 3 times now. The first time I watched it I didn't like it very much. The main character is hard to like. Many bad things happen to him in his life. He is a "victim" of circumstances beyond his control. His parents are having an affair, he has no friends, the girl he likes he discovers is actually a prostitute and shallow AF. So all of these things have made him a miserable depressed and bitter person who hates everyone and everything about life. — But the message of the movie is that even when your life sucks like this, you can find joy, you can find happiness, if you just hold on and keep looking. And thus, too, the main character's luck and life begins to change when he finally makes his first friend and for the first time, he begins to love his life and regret his behaviours.
Colorful makes the list as mistaken for Ghibli because of the more realistic art style, dealing with family themes and life in Japan, as well as elements of fantasy and magic, and the positive moral message within the film.
---
5. The Boy and The Beast
Alright, jumping back to Studio Chizu, the next two films on our list by Mamoru Hosoda are also often mistaken for Ghibli films because of the animation and art style as well as imaginative stories and fantasy worlds. The Boy and the Beast is sometimes considered a sequel to Wolf Children although it is different and a stand alone piece. The main character is a young boy who runs away from home because of some misconceived feelings and thoughts about his family. He becomes lost in a fantasy world with Furry beast-like people. Not only wolves, but rabbits and cats and monkeys and pigs and lizards and pretty much any animal imaginable. Another great film for furry lovers.
Furries aside though, the film stands on its own for its emotionally moving story and strong character development. The boy is taken in to become apprentice to a kung fu master who is one such beastman. Although the beast is very hard on the boy, and the beast has bad "people skills" they grow close, although perhaps both unwilling to admit it. The two are very stubborn and butt heads often.
Eventually the time comes for the boy to go back to the human world, which threatens his relationship with the beast who has been raising him. Only at their parting do they come to realize their feelings for one another. As the boy adjusts to life among the humans, he learns that he must return to the world of beasts to save both their worlds. Once parted again, the final message of the film is that the love your family gives you is eternal, surviving death, surpassing all other feelings or emotion, and that it is always with you, inside your heart and your memories of your loved ones. – Aww I'm tearing up just typing this and thinking about it, and it has been a year or two since I watched this movie. I need to rewatch it tonight for sure. So good.
---
6. The Girl Who Leapt Through Time
One more Mamoru Hosoda film on our list. The Girl Who Leapt Through Time is one of his earlier works, but is a very good animated film about a girl who has a limited number of time warping abilities. She wastes most of these, and learns the consequences of her actions a bit too late. Like most movies about time travel, we learn that changing things in the past has unintended consequences in the future. I think thematically out of all of the films on our list, this one is the most like a Ghibli film. The story follows a formula similar to many Ghibli films… A slow build up; Resistance to the romance initially, and then discovering your feelings for each other when it's too late. An open ending, leaving us wondering will the two meet again? The character style and animation style also reminds me very much of Studio Ghibli.
---
7. Koe no Katachi – A Silent Voice
These next two films are the highest grossing Japanese anime movies in recent years. Both films received a lot of international hype and press coverage from the media. That success alone is enough to cause people to mistake them as Studio Ghibli films, especially to lay persons who are not avid anime enthusiasts. A Silent Voice is by Kyoto Animation and directed by Naoko Yamada. The story is about a young deaf girl without any friends, and a young boy who teases said deaf girl. Because of his teasing his friends shun him (even though they too were teasing her as well). As he goes through middle school without any friends, he learns how the young deaf girl must have felt. He has a change of heart and feels ashamed for his actions. He longs to someday get the chance to apologize to her, so he begins to study sign language just so he can tell her how sorry he is.
I expect to see a resurgence in popularity of this anime now that Shape of Water has been voted the best movie of the year by the Academy Awards. In fact I've also seen the English title of this anime written as "The Shape of Voice" (similar titles even). Shape of Water also deals with sign language. Another really good "film" (tv series actually) about sign language is Switched At Birth. It even uses deaf actors.
I reviewed Koe No Katachi A Silent Voice Here.
---
8. Kimi no Na wa – Your Name
This was the highest grossing anime movie of the year – or perhaps even of all time – holding out the number 1 position in the Japanese box office for months. And performing quite well when released abroad too raking in over $355 million at the box office. It is indeed a great film. Its success also means it gets mistook for a Ghibli film. Directed by Makoto Shinkai and produced by Comix Wave Films. It is a gender bending time traveling fantasy adventure with a love that transverses, time, space, and location. Read Our Review of Kimi no na wa here.
---
9. A Letter to Momo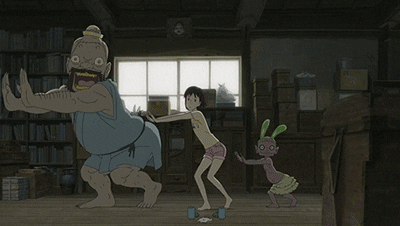 A Letter to Momo definitely reminds me of a Ghibli film. This movie is about a young girl who must move to the countryside after the death of her father to a place where she has no friends but soon discovers she has the ability to see and speak to Yokai. Eventually in the film, the young girl realizes the importance of family and discovers the ability to move on and make new friends and a new life for herself, but not before many trials and hardships are put before her. The focus on family and the addition of the Yokai definitely have that Ghibli like feel; however, this film is directed by Hiroyuki Okiura and produced by Production I.G.
---
10. Lu Over the Wall
This film reminds me a lot of Ponyo, the floppy strange limbs of the mermaid, and just the general theme – even at the end, saving the village from a tsunami. I like Ponyo better, but I also really enjoyed Lu Over the Wall as well! Check out my review of Lu Over the Wall here.
---
11. Brave Story
I read the book that the anime was later based on when it (the book) first came out many years ago. It is a long and thick young adult's fantasy adventure, similar in length and scope to literary greats like Harry Potter. The story is about a young boy whose parents are getting divorced. One day while playing in a construction site he discovers a doorway to another fantasy world. If you're interested the book can be found on amazon.
---
12. The Princess and the Pilot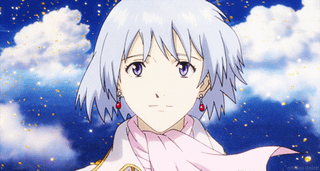 I enjoyed this anime, but I first had watched the semi-related series, Pilot's Love Song. I really loved Pilot's Love Song, while I just sorta "liked" the Princess and the Pilot. Both anime deal with war and aircraft – a common theme in Studio Ghibli films as well… and just like a Ghibli film they weave in a love story that is challenged by the events in the film. The Princess and the Pilot is about a young skilled pilot who has been hired to take the princess through a warzone. They have engine troubles, they are pursued by enemies, and all the while, they get to know each other a little bit better. The spoiled princess begins to change and want to take a more proactive role in her own safety.  And the pilot of course falls in love with the beautiful princess, despite finding her annoying and burdensome at first.
---
13. Miss Hokusai
Personally, I did not enjoy Miss Hokusai, a film about a daughter of a famous artist. I can't deny that it has a very strong Ghibli feeling to it though in terms of artwork and character design and story and pacing throughout the film.
---
14. Miyori's Forest
---
15. Windaria
---
16. The Garden of Words
---
17. Children Who Chase Lost Voices
---
18. In This Corner of the World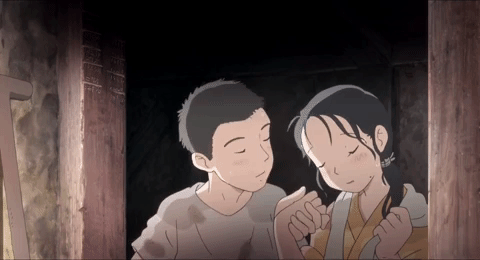 ---
19. The Anthem of the Heart
---
20. 5 Centimeters Per Second
---
21. Hotarubi no Mori e
This short film, less than 1 hour in length, tells the tale of a young girl who falls in love with a yokai fox spirit in a hidden forest. They are forbidden to touch, at the cost of the spirit's life. It is a heart breaking, but beautifully animated film. I feel it could have been longer and more detailed in the story and character development which would have even heightened the emotional impact of this anime. It is based on a one-off manga by the same name. The film was directed by Takaihiro Omori and is produced by Brian's Base Studio.
---
 22. The Place Promised in Our Early Days
---
 23. Voices of a Distant Star
---
24. Fireworks
---
25. Napping Princess
---
26. The Red Turtle
---
27. Typhoon Noruda
---
28. Metropolis
---
29. The Perfect World of Kai Piano no Mori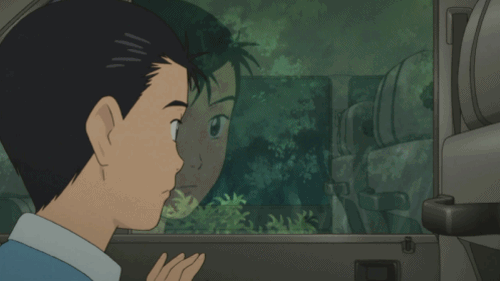 ---
30. Oseam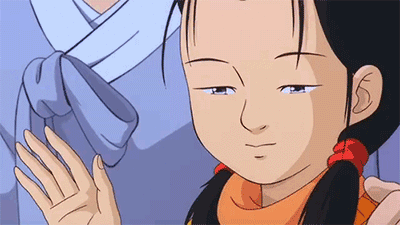 ---
31. Kakurenbo
---
32. Twelve Months
---
33. Dog of Flanders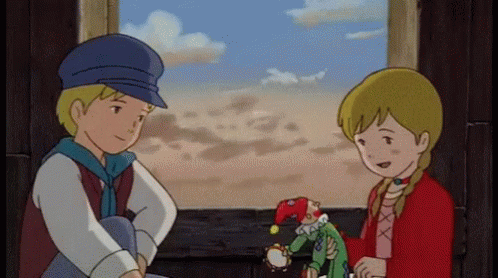 ---
34. Big Fish and Begonia
---
35. Yobi the 5 Tailed Fox
---
36. Nadia the Secret of Blue Water
---
37. Rainbow Fireflies
---
38. Chinese Ghost Story
---
39. The Tibetan Dog
---
40. Showa Monogatari
---
41. Tatsumi
---
42. Tezuka Osamu no Budda
---
43. Hal
---
44. Little Nemo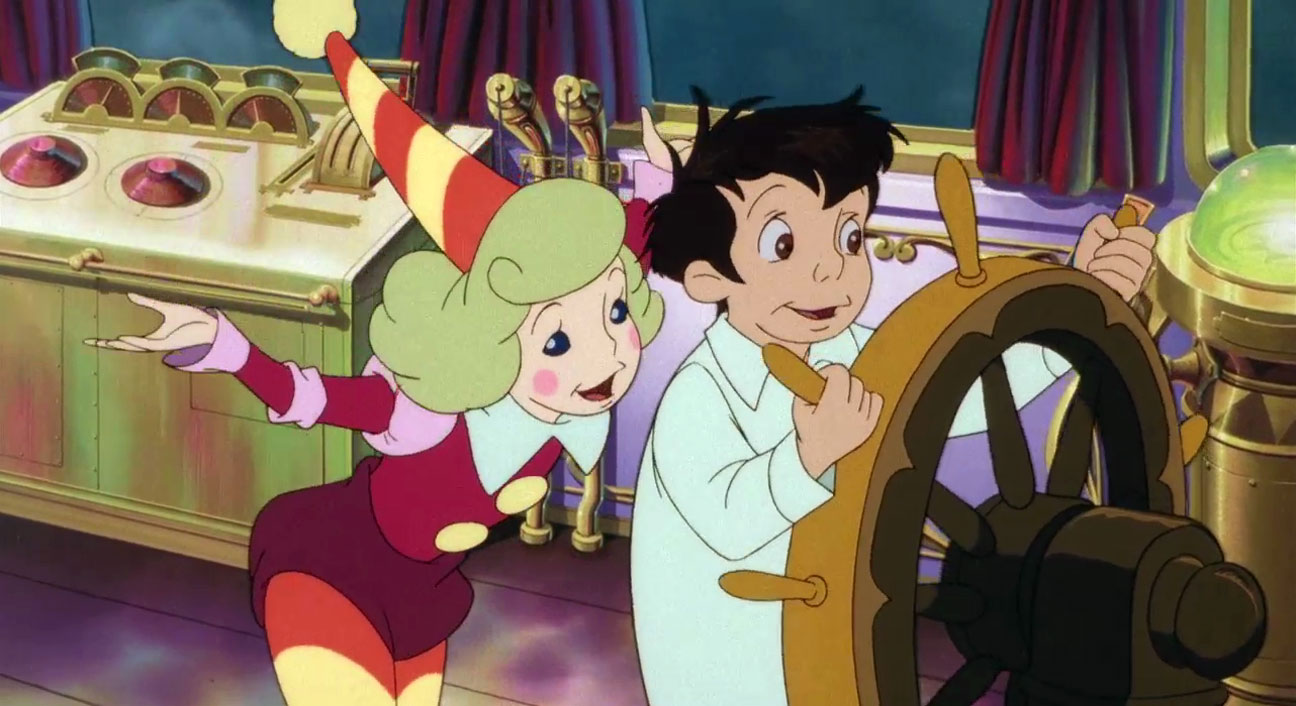 ---
45. The Last Unicorn
---
46. The Hobbit
---
47. Hans Christen Andersen's The Little Mermaid
---
48. Wixoss
---
49. Origin Spirits of the Past
---
50. Cinderella Monogatari
---
51. The Fantastic Adventures of Leda
---
52. Little Memole
---
53. A Journey Through Fairyland
---
54. Papa Mama Bye Bye
---
55. The Star of Cottonland – A Kitten's Fantasy
---
56. Candy Candy
---
59. Time of Eve
Time of Eve, Eve no Jikan, is one of my favorite anime series of all time. There's also an anime movie based on the series. In this anime, robots are an integral part of society but are viewed as little more than machines and tools, however, the robots live a secret life in a hidden society just for them.
---
58. I've Always Liked You
---
59. The Moment You Fall in Love
---
60. The Magic Treehouse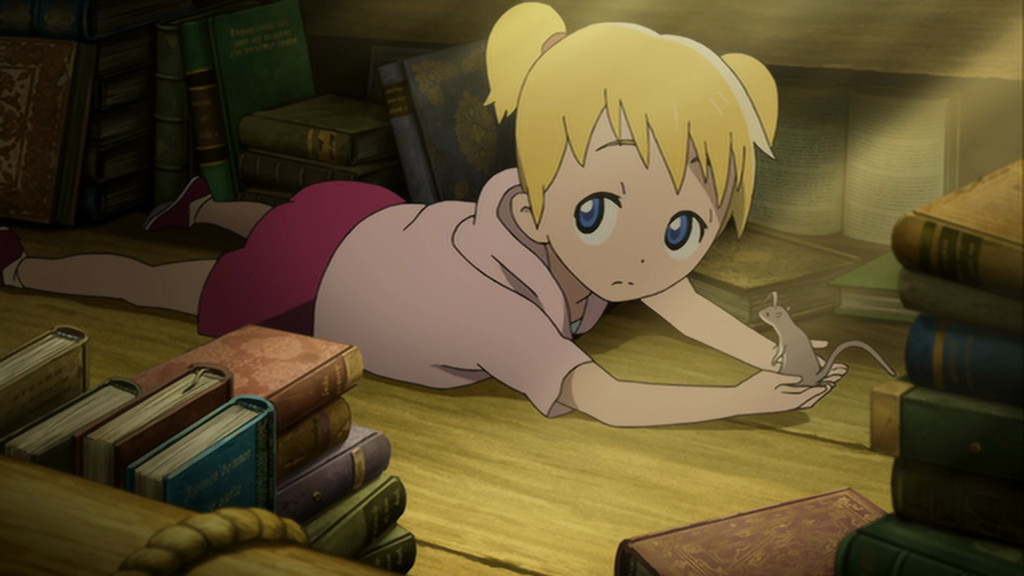 ---
Bonus: 61. Lost in Moonlight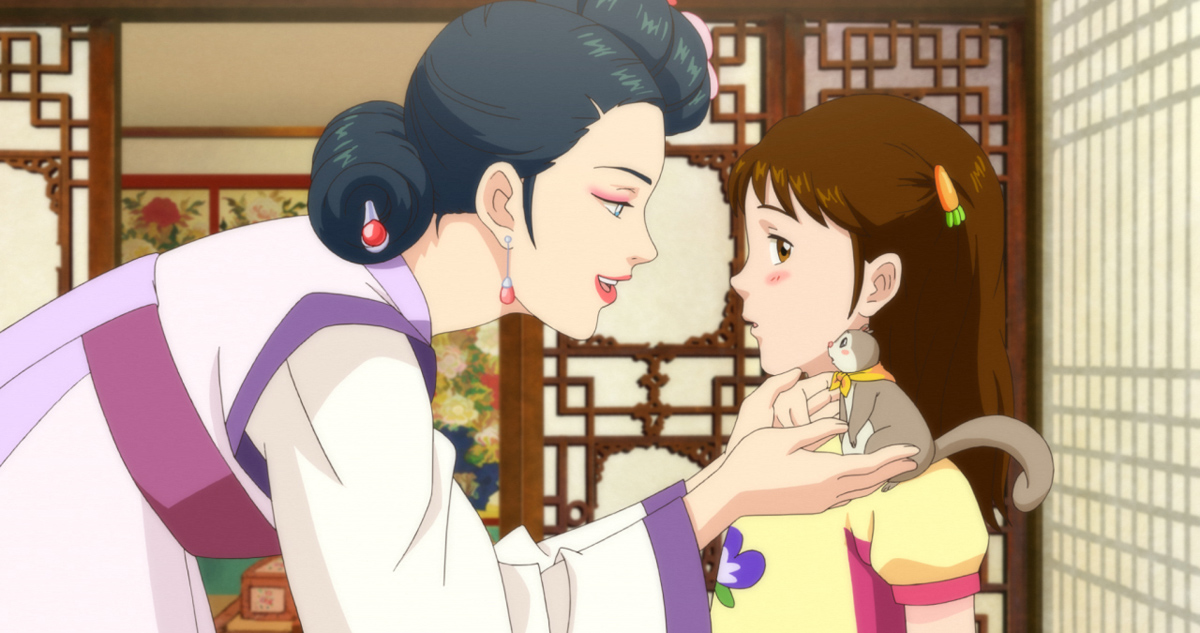 Including this film actually brings our list total to 62 films since our list started with the number 0. I have not yet watched this one. I want to, but I have been unsuccessful in my attempts to find a version with English subtitles. This Korean animated film made international headlines when it was released for having "copied" Studio Ghibli's Spirited Away, while others were quick to defend the film saying the story and characters were vastly different. I want to watch this film and make my own conclusions as to just how similar it may be to Spirited Away.