As mentioned in another post here, I spent much of this past weekend playing Stardew Valley on the PC. Stardew Valley is a game that harkens back memories of popular retro games such as Harvest Moon and Rune Factory. The game is fun and relaxing… however, like most games in this genre, the gameplay can get tedious and repetitive at times. Stardew Valley also suffers significant development delays and setbacks, which is not surprising considering the entire game, from the graphics, to music, to programming, was all made by just one person. It doesn't get anymore "indie" than that. Despite these few small flaws, the game is one of the highest rated Steam games of all time with nearly 50,000 Overwhelmingly Positives since its release in February 2016. If you're still wondering if Stardew Valley is worth playing, read my Stardew Valley Review below.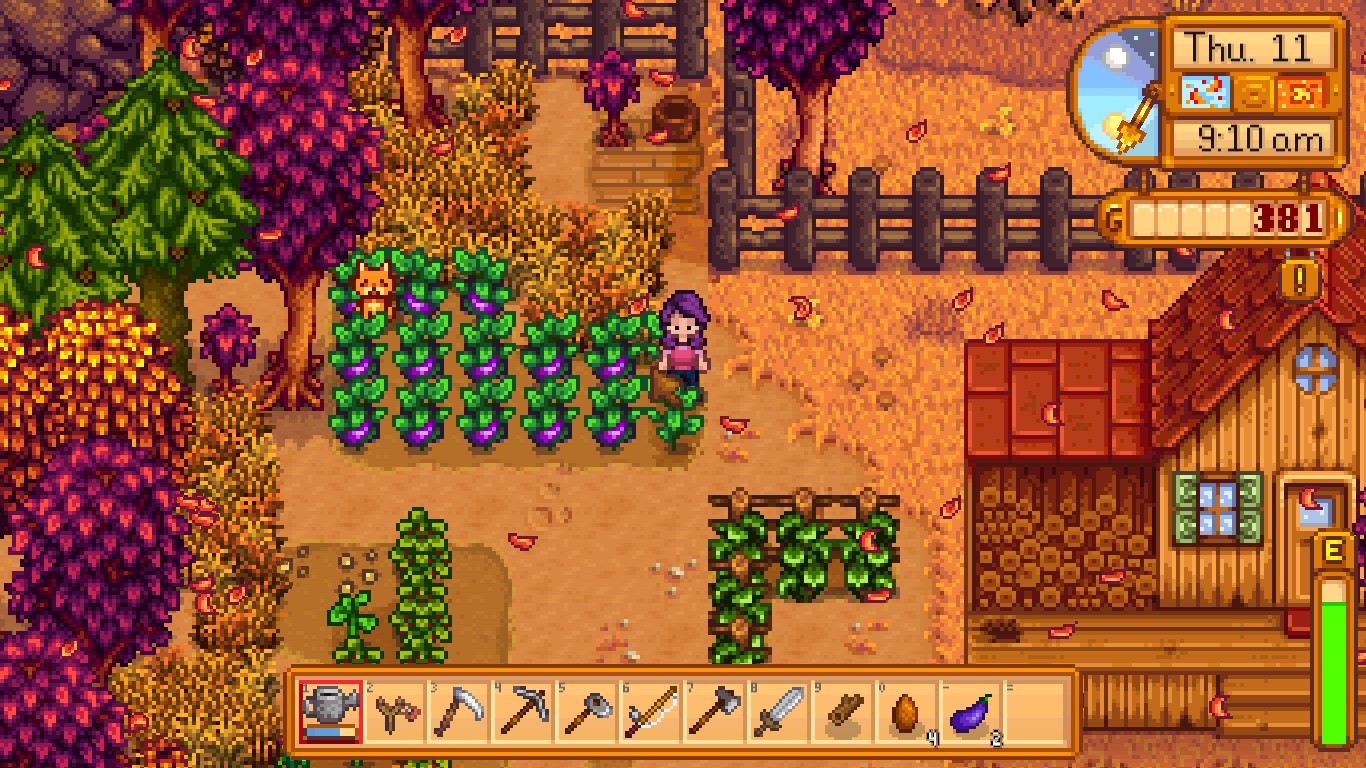 Title: Stardew Valley
Developer: ConcernedApe
Publisher: Chucklefish
Platform: PC (also recently released for Xbox One, PS4, and soon to be released for Nintendo Switch)
Genre: Farming Simulation
Where to Buy: PC Version on Steam Here.
Release Date: February 2016
Geeky: 2/5 
–  This is a low budget indie game, so you won't see triple A graphics here. And given the genre and nature of farming simulation games there isn't much action going on. I also feel the controls and UI are clunky, to the point of detracting from the gameplay (read more about that later in this review). However, given that 1 man made everything in this game, that's pretty impressive and worth an extra star at least for effort!
Sweetie: 4/5 
– Everything about this game exudes charm and cuteness. However, the characters feel impersonal and the story a bit lacking, costing it to lose 1 heart for "sweetie" factor.
Overall: 60/80 75% D- "Average Game for Girls"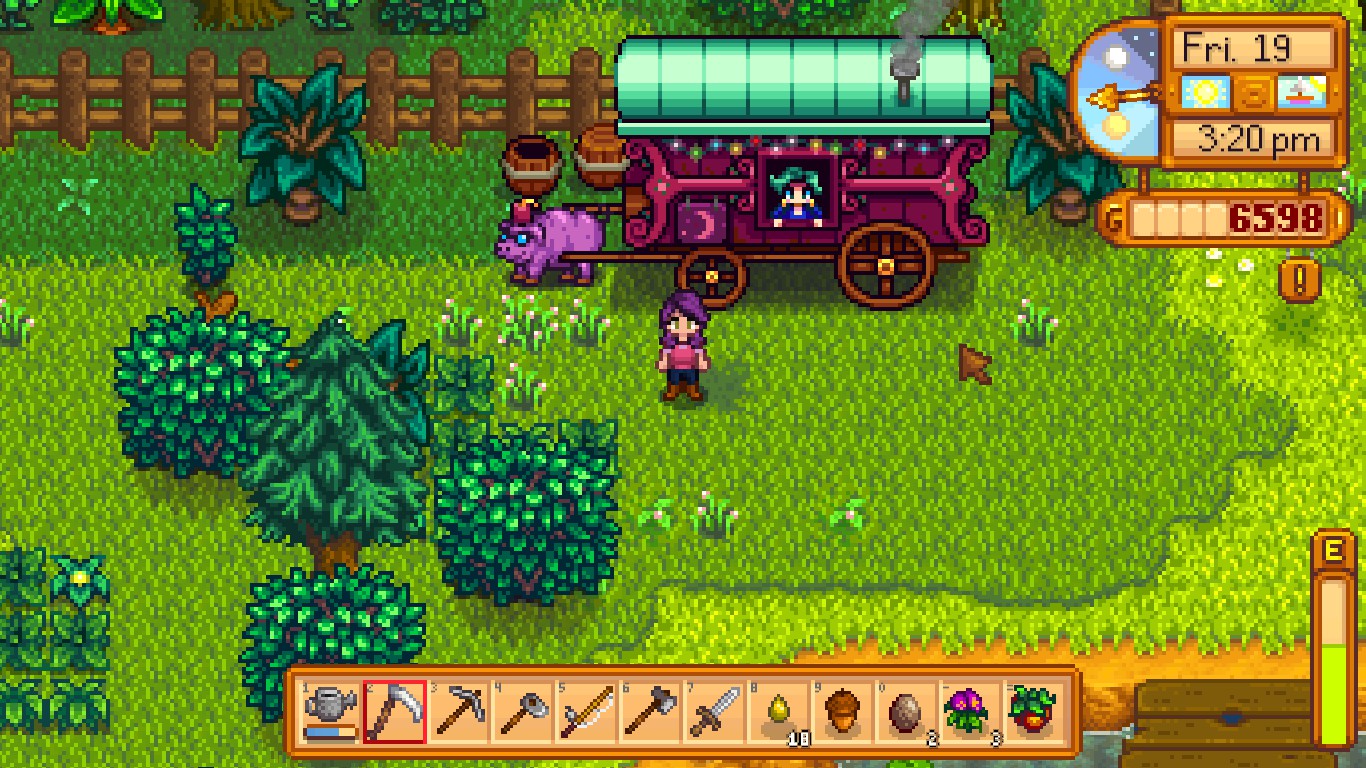 Concept: 8/10 It's hard to believe this game has been out for less than a year; it's so wildly popular and became an instant fan classic, that even games by fully staffed development teams have not made nearly as successful games or seen as many sales or positive reviews in years worth of time. And day by day new fans come to experience Stardew Valley for their very first time and fall in love, and continue to share their experiences. I was somewhat late to join the party, starting back in maybe July of 2016.
At that time, people were growing restless with lack of progress made on features that had been promised such as multiplayer. Here we are another 6 months later, and there's still no word on when multiplayer will be added, just simply that it is in the works. The game has received several updates and improvements, including finishing "routes" for "new" characters (The characters were already present, but now you can date more of them).
And that's important because really… the game of Stardew Valley is like the game of your life. Stardew Valley's open sandbox environment and multiple choices and decisions that you will make, all shape what will happen. Will you get married? have kids? Choose a life of adventure exploring dungeons, fishing all day, or focus on rebuilding your grandfather's farm? Or maybe just sit at the tavern, playing games, and wasting your virtual life – the choice is yours.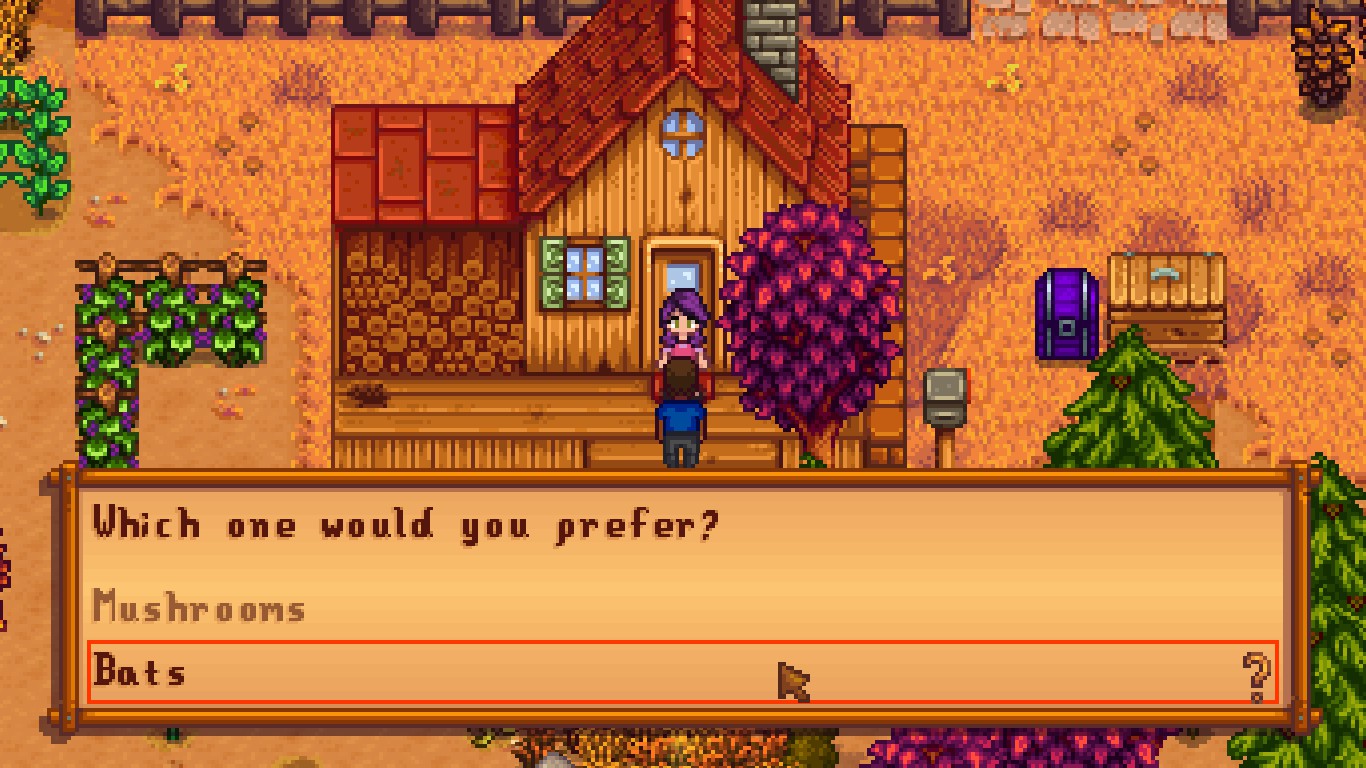 Although the game starts slow, once it picks up, there will be numerous choices you must make (which you'll start to notice around maybe Fall of the first year or so)… Things such as deciding if you want to let fruit bats live in the cave near your farm or if you want to use the cave to grow mushrooms. Hopefully by Fall of the first year you've had time and resources to upgrade your house or add new buildings that let you craft new recipes and add new gameplay elements such as making pickled vegetables, fruit preserves, wine, cooking meals from your crops in your new kitchen, etc. Characters at times may also ask you questions which may impact the game or change their friendship towards you, such as asking you what types of books you like to read, etc. Lil bit by lil bit you will begin to see how YOUR farm in Stardew Valley differs from that of your friends' farms. (Or how it will differ for you on subsequent playthroughs).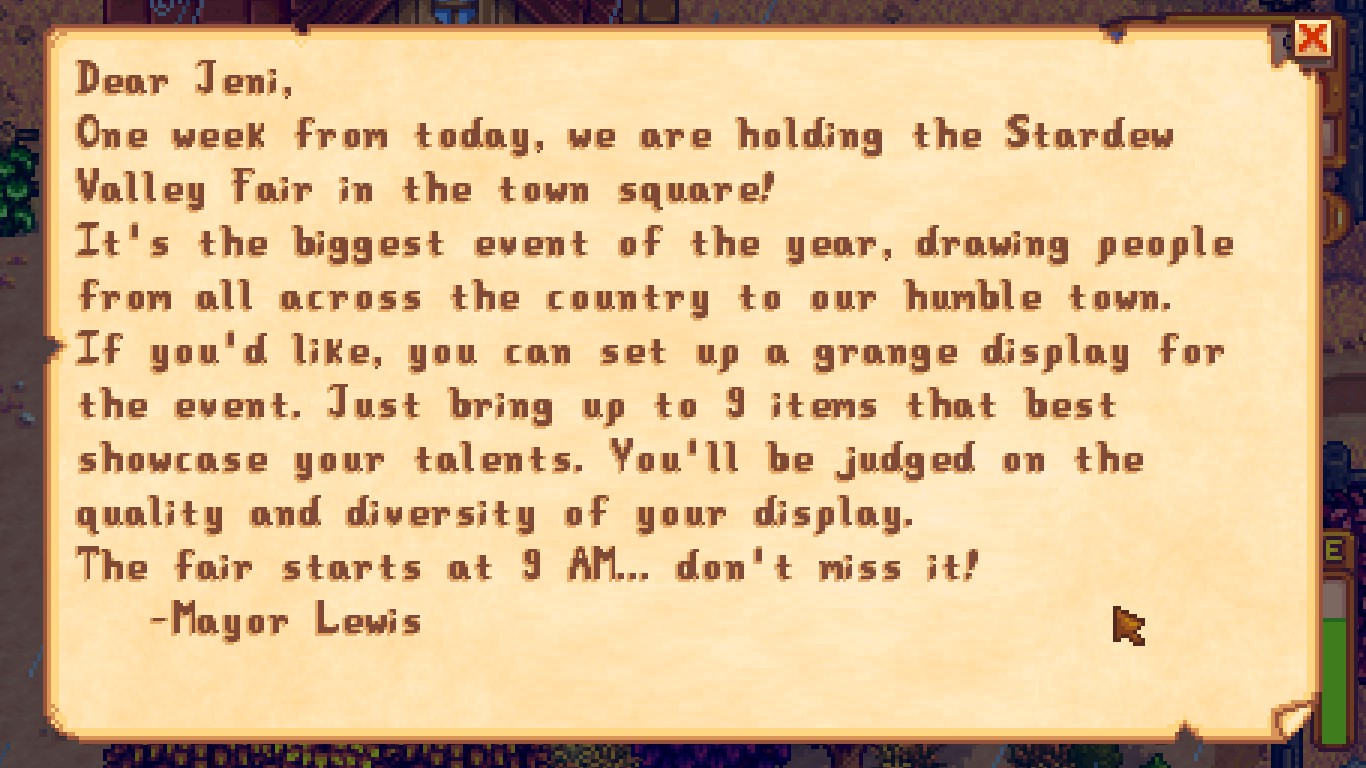 There are also numerous in-game events held throughout each season such as festivals, cooking contests, dance parties, and more. If you've been working on your social skills in the game and making friends, or even romances, these special events will be even more special, having someone to share them with.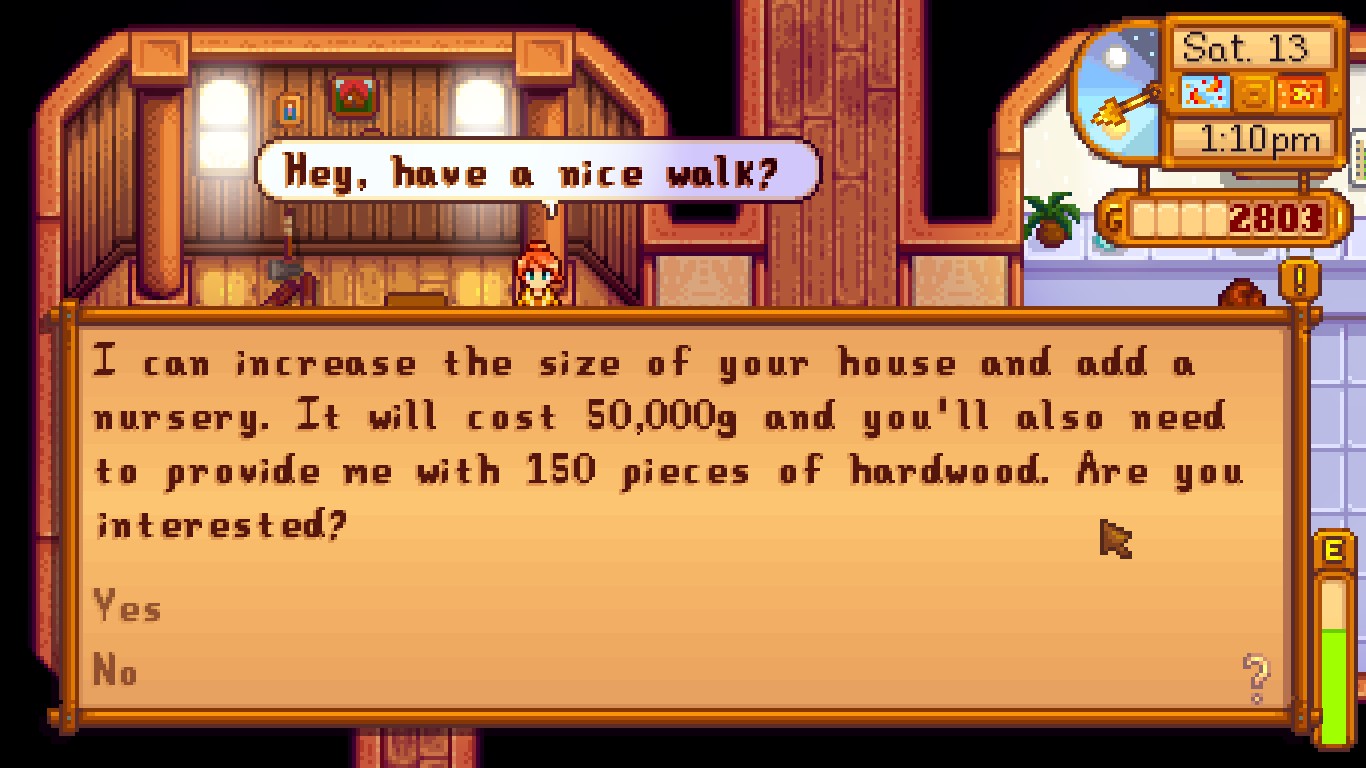 You start with little in way of resources to begin the game and with little to do. When I first started playing, it was tedious. It felt like work, like real life. It was made somewhat worse by bad controls and UI… However now, as my first year in Stardew Valley draws to a close, the game has me firmly hooked. I couldn't believe I stayed up until 1am playing it lastnight, and I want nothing more than to go home and play it again as soon as possible. — Soon you will be able to take Stardew Valley with you everywhere you go with the Nintendo Switch! For many, this means starting all over from scratch though and replaying through these tedious first few hours of gameplay as I seriously doubt it will sync your game saves — though it would be awesome if it did!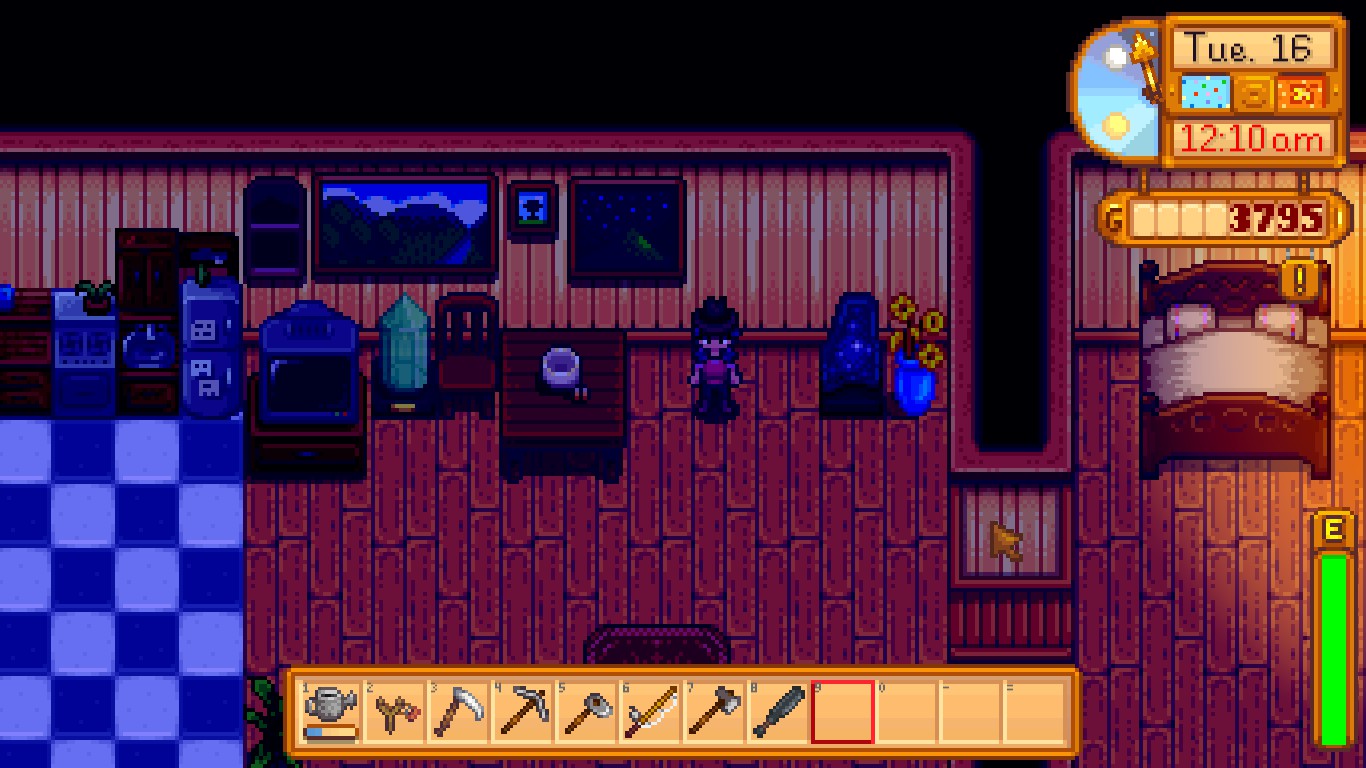 Stardew Valley is slow paced, and definitely not for everyone. There is some combat; however, at least on the PC, the combat is simple and basic at best, and involves no strategy, and just mindless clicking. The controls also make any actions, from combat, to fishing, to farming, a real pain at times. However, despite these flaws, Stardew Valley shines because of the charming retro vibe and relaxing gameplay mechanics. It's one of the best casual games around and guaranteed to make you feel warm and fuzzy. It is just simply a "Feel Good Kind of Game".
Gameplay: 6/10 If you've ever played a Harvest Moon or Rune Factory game then you will be right at home in Stardew Valley. The basics of gameplay include planting, watering, and harvesting crops, conversing with townsfolk, dating/marrying a townsfolk, upgrading/decorating your home, exploring dungeons, collecting and crafting items, and joining in various events. — It was also marketed as an "Online or Multiplayer" farming game (which drew many fans who have long dreamed of an Online Harvest Moon — however, that feature, which arguably is the game's MAIN feature, is still no where to be seen and with no estimated release date a year later.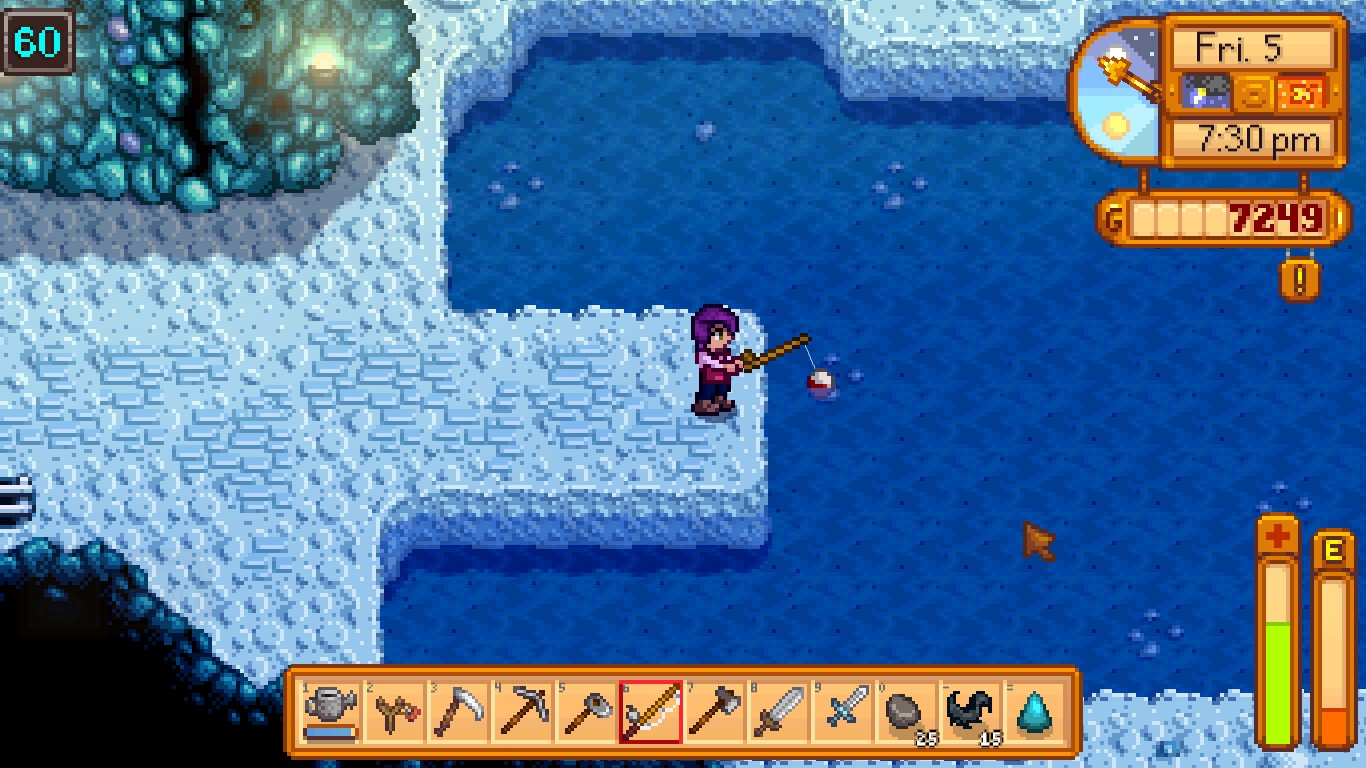 I'm critiquing the gameplay for the PC version right now since it's the only version I have played as of time of review. While the features of the gameplay would get high marks here in terms of the vast amount of things to see, do, choices and consequences, and customization, the score ultimately suffers due to terrible controls and UI. Please note for this review I play on a laptop and do not use a mouse. I am a keyboard only user. As such, there are some things that just DON'T work. Period.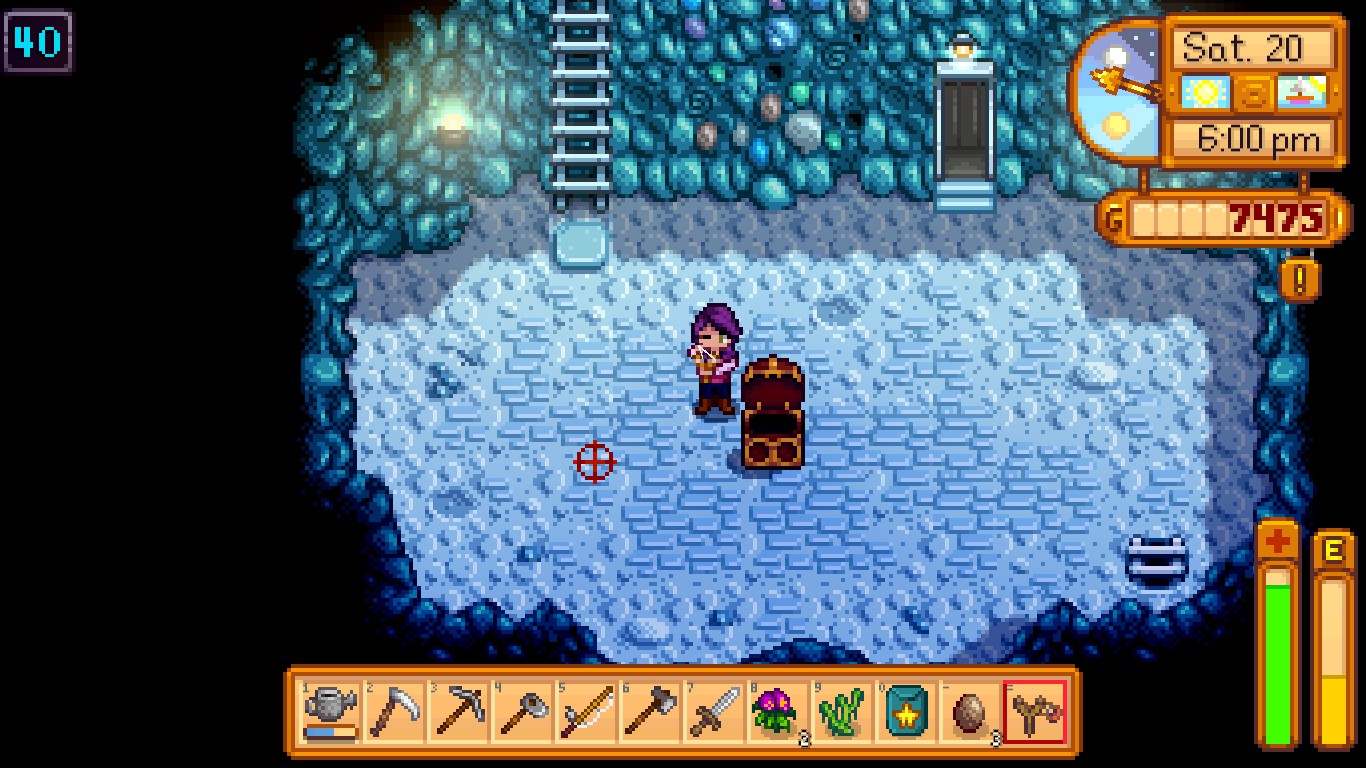 Like for example, I read that to put bait on a fishing pole you left click the bait then right click the fishing pole, but nothing happens when I do this. Luckily, you can fish without bait, but with some tools you aren't so lucky. I assume that loading the slingshot with stones also works in the same fashion but can't figure out how to load it with ammunition either which makes it completely useless to me. At the fall grange faire, the controls for fishing were different than fishing on the main map too! In the main map I can use my button shortcode which is C as opposed to mouse clicking, — this for some reason does not work at the fall grange faire and you have to use the mouse (in my case keep in mind, I'm using my laptop's "touchpad" which you can click/scroll/operate like a mouse.) —
I have read that PS4 controllers will now work in Steam so I may have to try that and hope they are supported in Stardew Valley. I also do have a usb mouse – but given that I play largely from my bed, it makes finding a place to put the mouse a challenge. I am surprised because quite simply, this is a casual game. If I were expecting to smoothly play a triple A title without a mouse, from my bed, well that would be my own fault for having unreasonable expectations… but the truth is, there's nothing here that should require finesse or skill.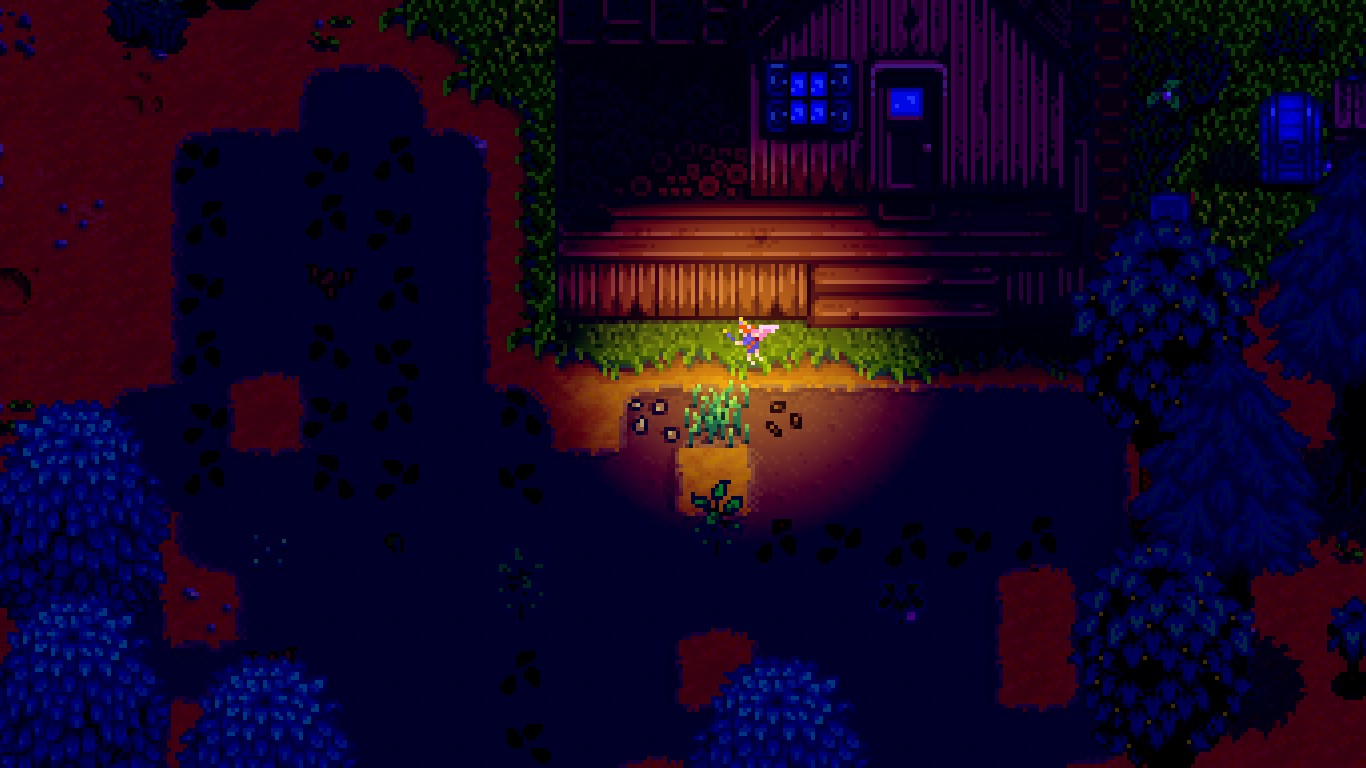 And it's not just a little bit cumbersome, it's that things completely don't work in some cases as illustrated above at worst. At best, I find myself constantly turning away from my target while fighting in the dungeon, or watering an empty square next to the plant I'm trying to water. Or I'll forget I have an axe equipped and accidentally kill a crop I'm trying to work with (OK so that last one is my fault 🙂 lol).
The gameworld is not that large, but you walk really slow, which makes it seem a bit larger (Please note for this review, I'm critiquing the default map, not the new ones added in after release). You will also find that you get weak from exhaust and/or injuries easily when you first begin playing, and that even adding new weapons, armor, and accessories, doesn't seem to speed up combat as much as you might hope.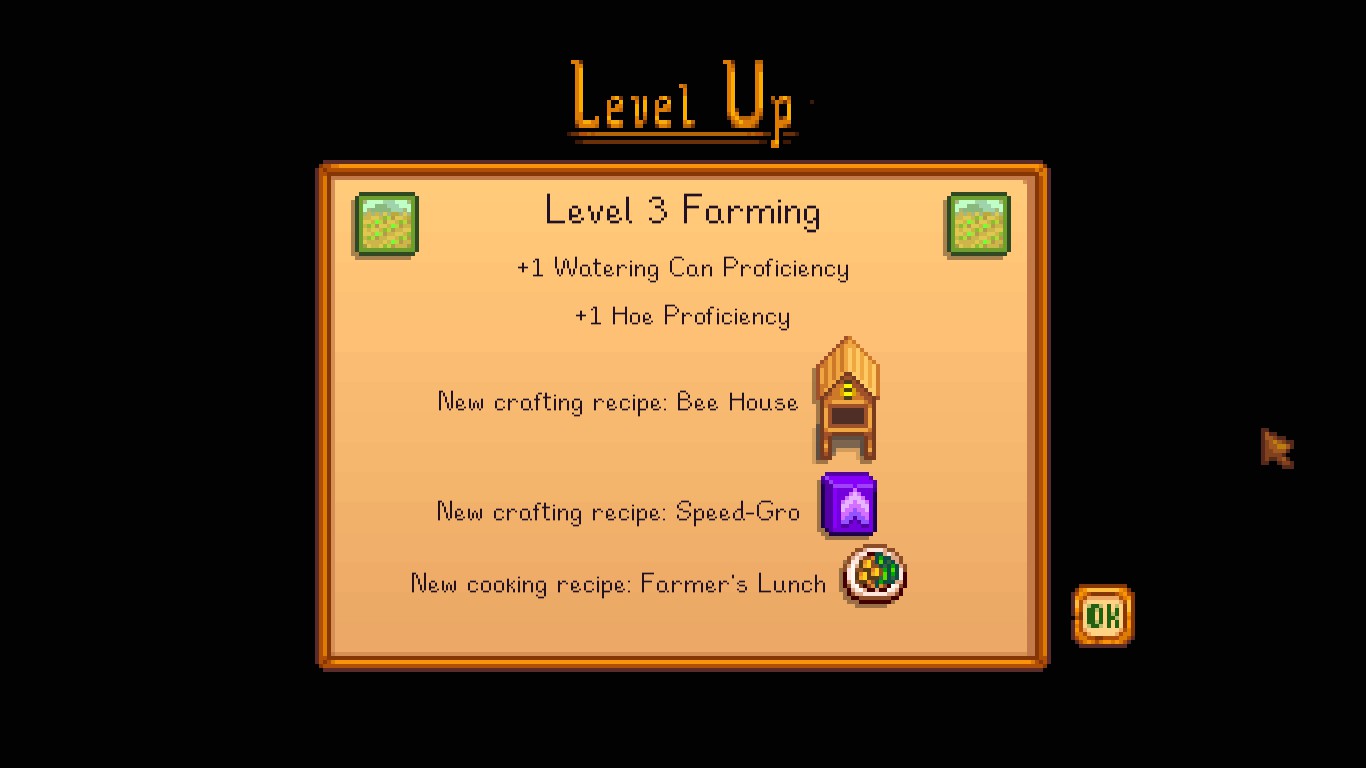 Despite these weaknesses, the gameplay is actually fun and enjoyable with a wide variety of things to do and see. In fact, there's often not enough in-game hours in a day to do everything. I love rainy days in the game so I can go fishing or explore the dungeons without wasting half a day tending to my crops. I also love that as you continue to do something in game, such as fish or fight monsters, you gain levels of proficiency with different skills and at certain levels, these skills branch off and force you to choose a path, with different pros and cons, which further customizes your experience from that of your friends – and also greatly adds to replay value.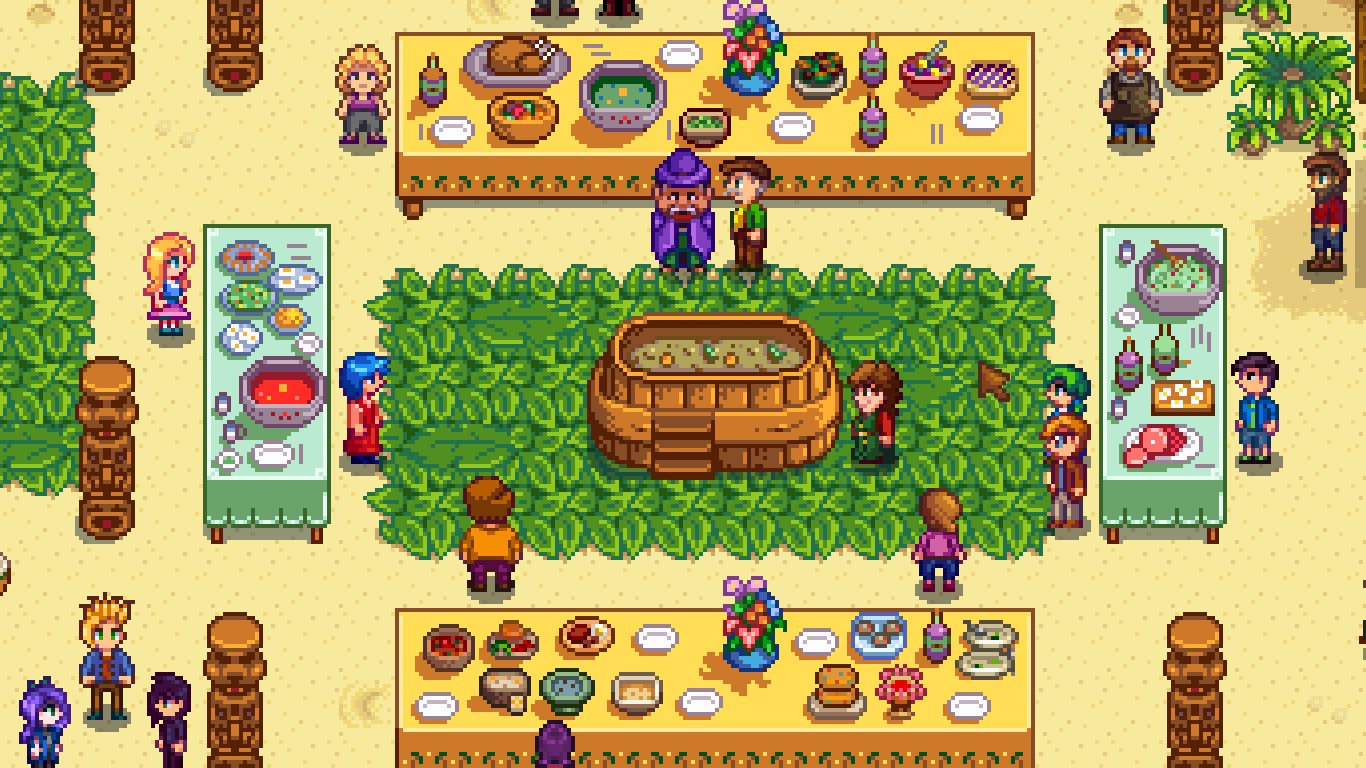 There could be some other features added that would further enhance gameplay, difficulty and challenge, such as making certain foods expire – would also create need to use the preserve machine — or making for example icecream melt after so many in-game hours. As it stands right now you could buy or grow an item in year one, and eat it 5 years later without risk of getting sick, etc. They could even add a temporary debuff "Food Poisoning" that would wear off after so many in game hours.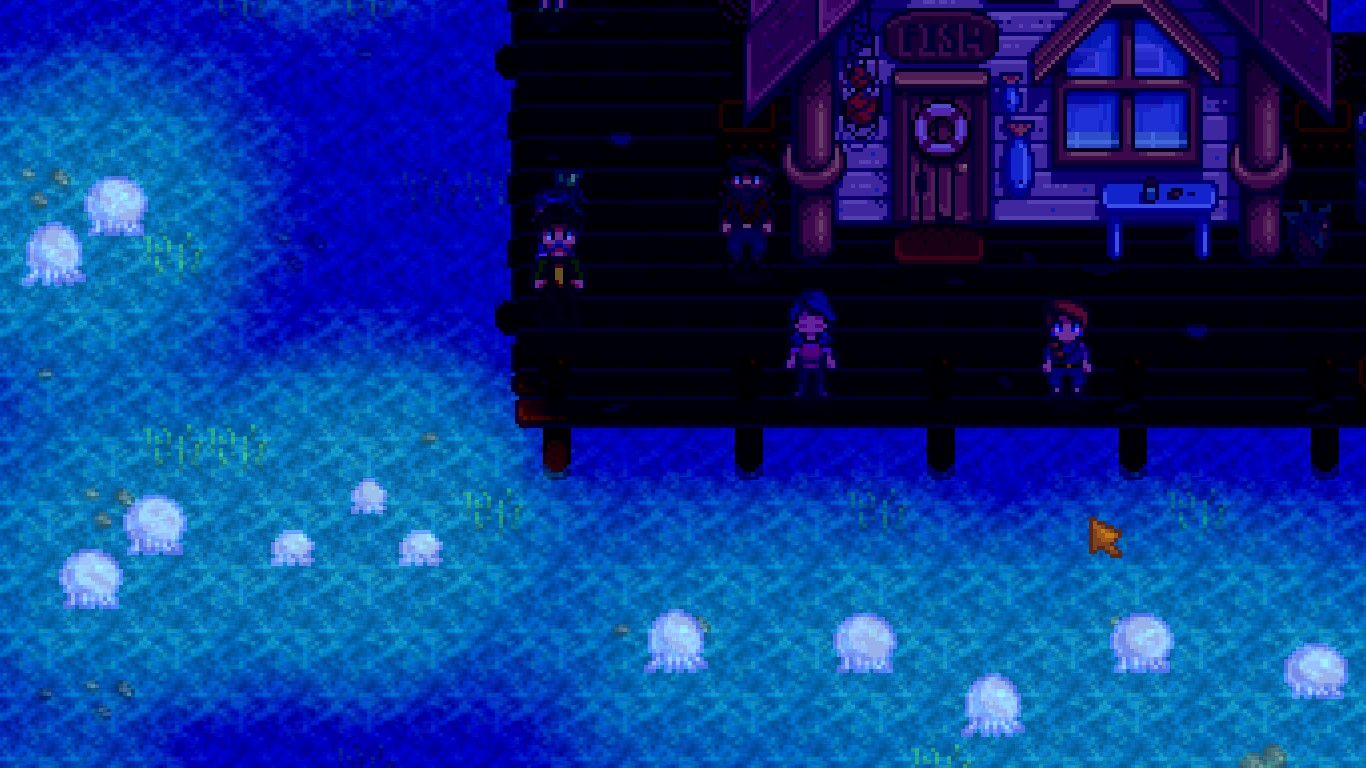 Story: 6/10 – Well the story is that you write your own story. You decide exactly what you want to do, who you want to be with, and shape your own virtual life. It offers a ton of customization and the story does branch and reveal different routes based on who you date and other decisions you make within the game, but largely, by the end of the first year, the story has felt weak and bare bones at best. The in-game events do help to spice things up however, I suspect that after the first year they will be less exciting since you've already seen them. — However, it makes up for this in the amount of customization, freedom, and exploration that these open world sandbox games are best known for. Watching slowly as your farm takes shape and beginning to set a path for yourself and discover how to make your farm uniquely your own is truly the best aspect of this game, and that will become even more of a big selling point once multi-player finally gets implemented so you can visit friends' farms.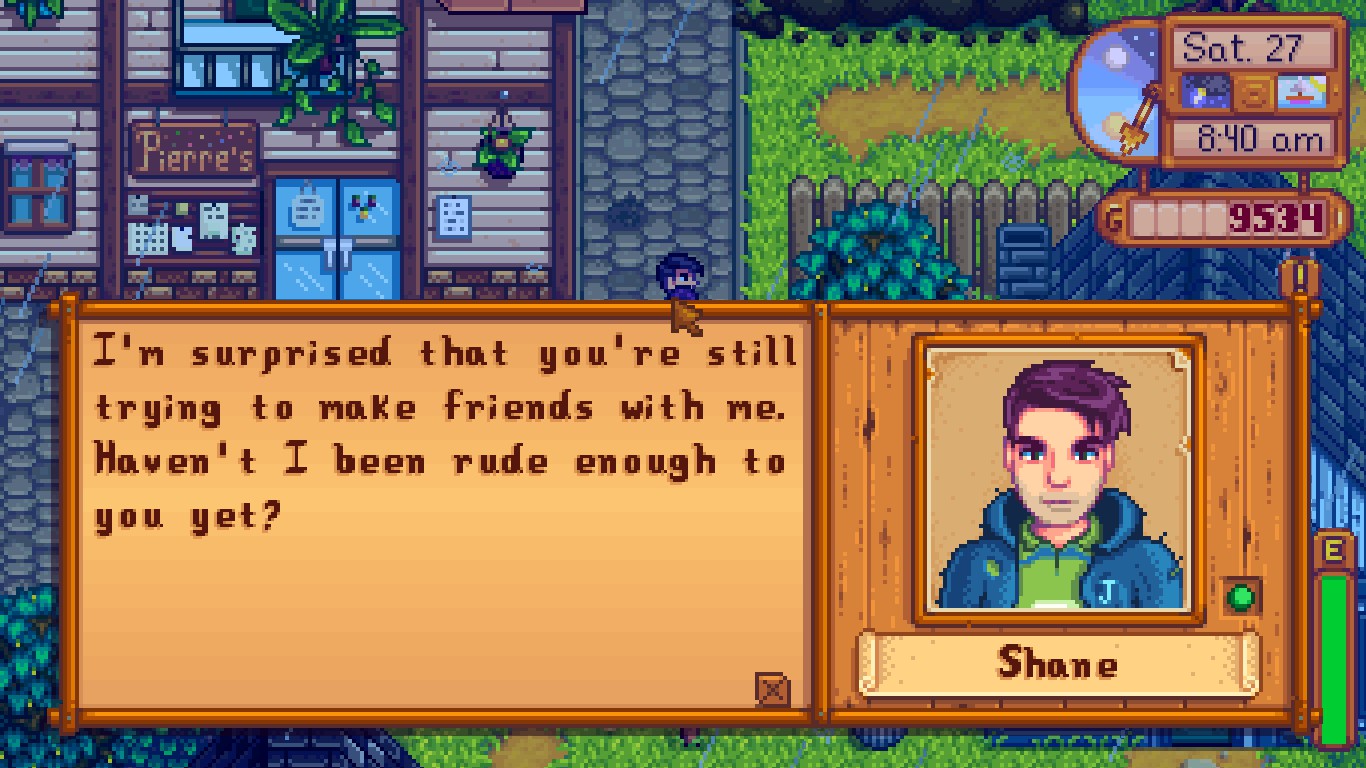 Characters: 6/10 – Well, there's a lot of them, but none of them are terribly interesting… They will recycle through the same dialog over and over. In the beginning, as to be expected, many of the characters are distrustful of you (You're a stranger afterall!), and so they do not talk about anything meaningful or overly deep. Getting close to people, just like in real life, takes time. Relationships take work, and Stardew Valley is no exception to that rule… I have yet to see if the characters, or story for that matter, get more interesting past the first year, but with well over 30 hours of real life put into the game, that's more time than one should be expected to "wait and see" if things improve.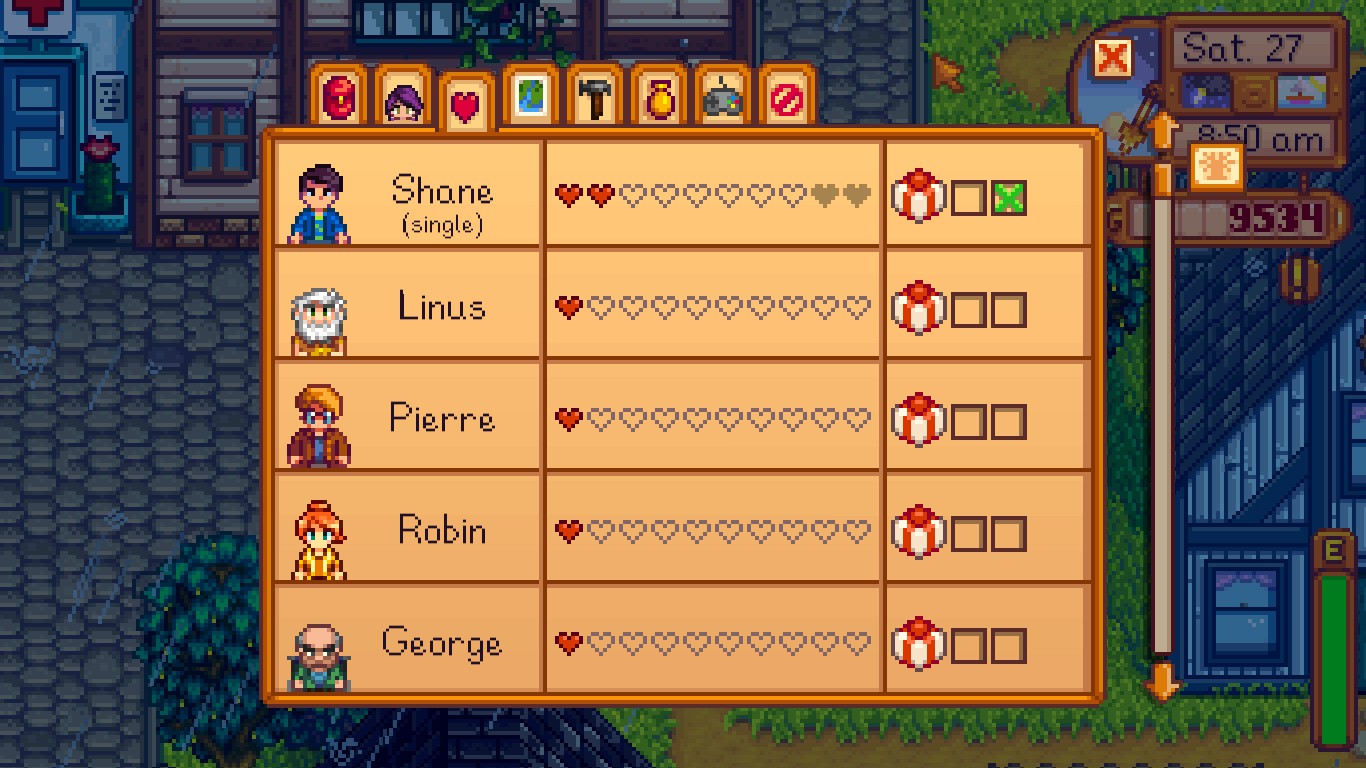 Right now my highest relationship, according to the fortune teller at the fall grange fair, is with Shane, one of the newly added routes in a recent update. He is sorta the Tsundere type. Rough on the outside. He often plays guitar in the tavern. He likes Hot Peppers, Spaghetti, and Pizza for presents, and he is a cold unfeeling jerk lol. At least initially. I think there may be more to him, which is why I was curious to pursue him. I think his route shows the most promise for "character development" if written correctly. It will be nice to see him warm up and hopefully be less of a jerk over time lol.
Other characters seem to pay homage to various Harvest Moon games, there's a guy named Linus (not dateable) living in a tent who reminds me of Gustafa from Harvest Moon on the Gamecube. There's Harvey who is a doctor, Demetrius a scientist (who at time of this review is not dateable), Sebastian who is a stereotypical Emo/Goth guy, Alex a fitness nut,  a Magician (I don't believe he's dateable either), Clint who is a Blacksmith, and Elderly couple. The tavern workers, a Museum worker, a Carpenter (female), Goth girl, Librarian (female), and a handful of others.
Despite not having much "depth" to the characters (at least after almost a whole year of time passing in game), the characters themselves are charming, and always busy and on the move. They breathe life into the game and keep it feeling active and bustling year round. Not only these human characters, but the animals on your farm, the monsters in the dungeon, and even just little touches like birds and butterflies randomly flying or a squirrel quickly climbing a tree, or a rabbit running through the bushes, they all make the game seem… living. It seems as if every character has a mind of their own and a life of their own. This is a big plus and part of the game's unique charm.
Graphics: 8/10 – Keep in mind, this is an indie game that wanted to go for a retro-vibe. If you're not a fan of "outdated" graphics, RPG Maker style games, and Isometric Top-Down view style games, then this is not the game for you. — That said, Stardew Valley is for you if you grew up with the 16 bit Harvest Moon games, don't mind "indie-retro" games, like to customize the appearance of your character, and like "cute" bright graphics.
Everything about Stardew Valley is exceptionally charming. And there is a lot of work that went into everything from the tile sets used in town or your farm, to the dungeons, character portraits, or animations. As mentioned above, the environment really feels almost like it's alive somehow, with so many small details and little touches, falling leaves, wind, rain, animals, and background animations that really add to the charm and little extra love that was poured into this game.
I'd like to see maybe a tad more detail on the character sprites, and even more options added for character customization and more interior decorating items, or more various monster designs and not just recolors – but that's just a wishlist, already, the artwork is pretty great if you're a fan of pixel style games.
I did take off a few points for the following:
It gets pretty hard to see where I'm going at night. I dunno if it's my monitor settings – and I am well aware you can craft items like torches and etc to brighten things up, but I get pretty lost.
Also some items can be hard to see if they're behind trees, or other tall graphic items, and this too, can at times cause you to feel "stuck".
Lastly, back to the UI again, it is just a lil bit clunky and could use some refinement.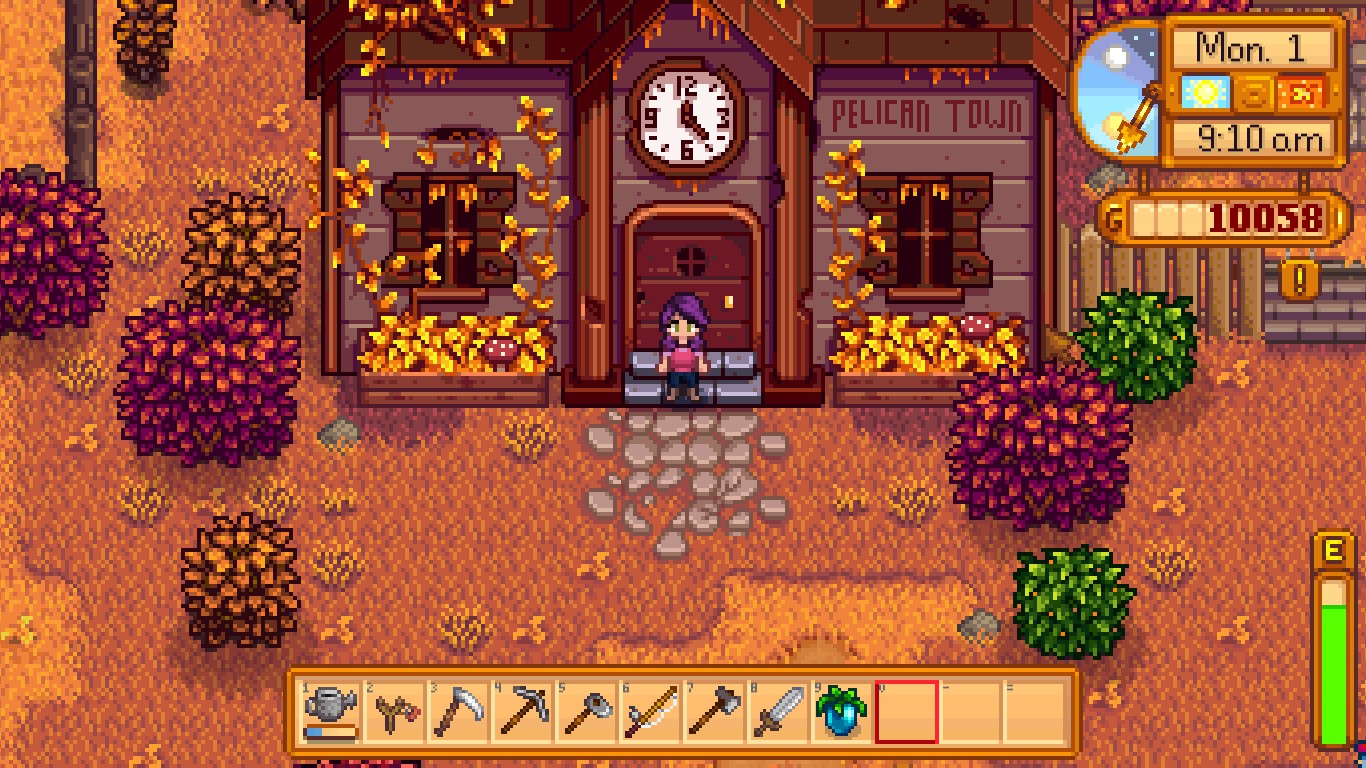 Music: 10/10 – The soundtrack is one of my favorite things about this game. It is infectiously catchy. Not only does it feature great music, but sound effects are skillfully used to further create immersion and once again give rise to a game world that feels bursting with life. Sound effects for weather effects, animals, monsters, and machines and tools all help paint a picture of what life in Stardew Valley is all about.
Replay Value: 10/10 – Despite myself criticizing many things in this game such as terrible controls and user interface, lack of promised features and development setbacks, and a rather barebones story and characters who are dull and cliche, there's just something indescribable about the gameplay itself. It is just a fun game. It's not a perfect game… but it is one that I would recommend. I can seriously see myself sinking hundreds, or even thousands, of hours into the game, a single playthrough takes probably a hundred hours or more, and if you want to try a different profession or pick a different husband or wife, you'll be starting a new farm, as the game autosaves every night which takes the freedom of creating multiple save files from a single playthrough out of your hands.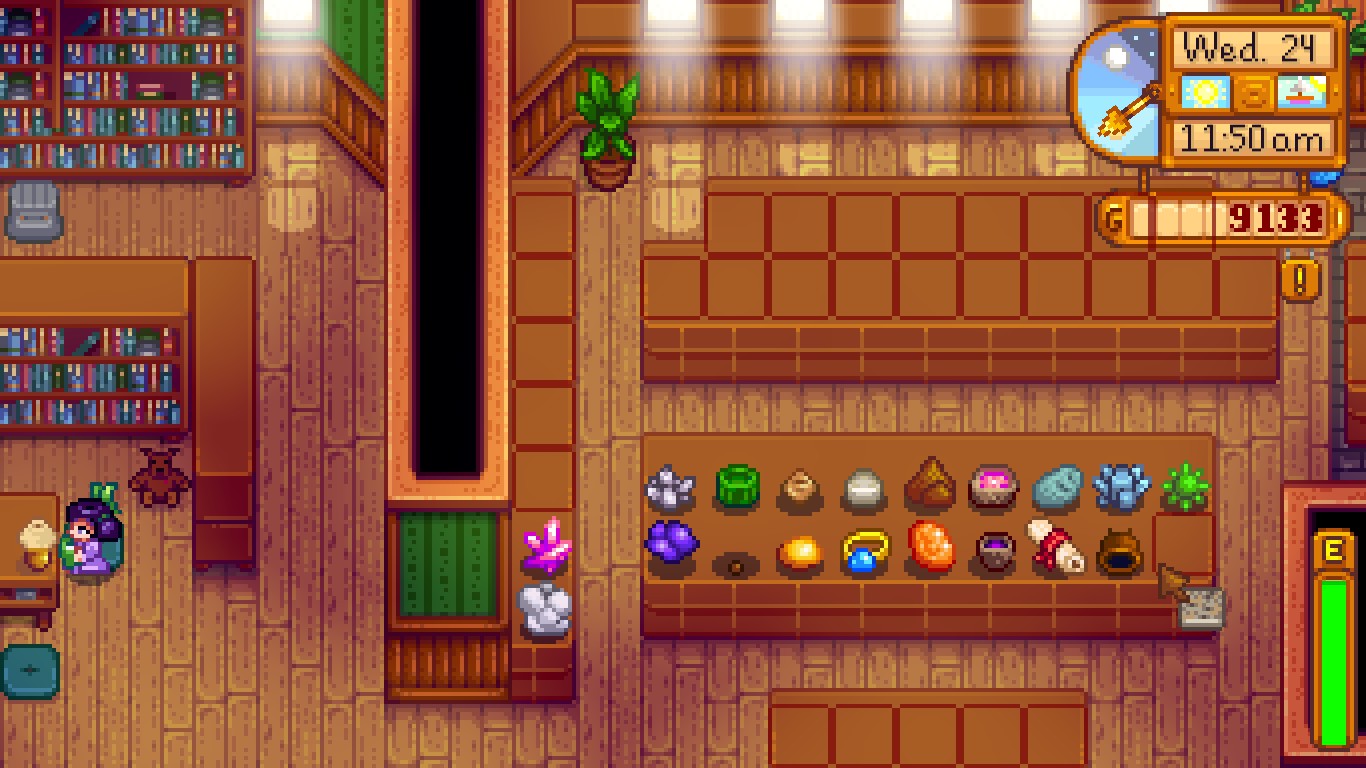 When I play Stardew Valley, I feel like I'm living a second virtual life, I come to care about my character, her friends and relationships, the farm, the city, and everything that's going on in the game world. It offers me a challenge with several aspects being only discovered later in the game, and that too keeps the experience feeling fun and fresh and wondering what will happen each time I play.
Stardew Valley is a game that pulls you in with all of its charm — However, it could do with some fine tuning to greatly improve certain gameplay and story aspects.
Would I play it again? Absolutely. Given the sheer amount of things to see and do, it is impossible to accomplish everything on a single playthrough and no two farms are exactly alike.
It is that feeling, that my farm, my village, my animals, my crops, my house, my little virtual family, that they are unique and truly unlike anyone elses' that is the driving force that makes me want to sit down and invest my precious time and energy into this game. That and the kawaii cute graphics and charming nature of the game that seem to just suck you right in.
And once Multiplayer gets implemented, kiss your real life goodbye, as the 50,000 people who think "Overwhelmingly Positive" things about the game, as well as thousand of new players, will be busy visiting their friends' farms and experiencing brand new gameplay elements.
Stardew Valley is constantly evolving with new maps, new characters, new skills, new recipes, and new fun!
Overall: 60/80 75% D- "Average Game for Girls"