Old style in Higashiyama
There are two elements from different eras in this photo taken in the district of Higashiyama, Kyoto. On the right you can see a large wooden commercial signboard (called kanban in Japanese) protected by a roof, typical for the Edo Period.
On the left side, you can spot two metallic lanterns specific to the Meiji Period Kyoto, a type originally powered by gas, with shapes inspired by the traditional tōrō lanterns usually found in Japanese gardens.
Click on photo for higher resolution: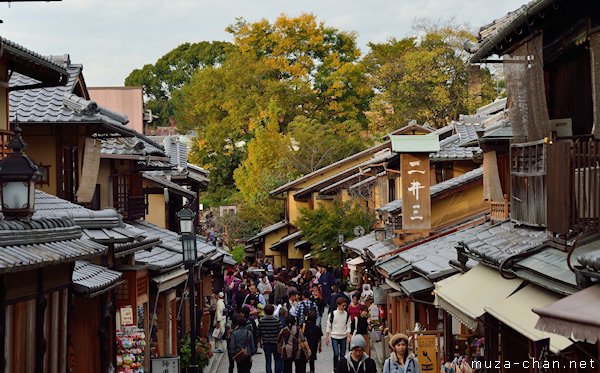 Higashiyama, Kyoto
If you want to license my photos for commercial use, please
contact me
EXIF Info:
| | |
| --- | --- |
| | Nikon Df |
| | Lens: VR 28-300mm F/3.5-5.6G |
| | Focal Length: 62mm |
| | Aperture: F/7.1 |
| | Shutter Speed: 1/640s |
| | ISO Sensitivity: ISO 1000 |

<script type="text/javascript" async src="//pagead2.googlesyndication.com/pagead/js/adsbygoogle.js"></script>

style="display:inline-block;width:300px;height:250px"
data-ad-client="ca-pub-2096207740482379"
data-ad-slot="4353033172">
<script type="text/javascript">
(adsbygoogle = window.adsbygoogle || []).push({});
</script>
| | |
| --- | --- |
| | Yesterday's Japan Photo: |
http://muza-chan.net/japan/index.php/blo...igashiyama