Japanese traditional architecture, Joudan floor
In the rooms used by the upper classes, such as samurai elite or aristocracy, you will see an area with raised floor, like in this photo taken at Shoren-in, in Higashiyama, Kyoto.
Called joudan, this raised floor area was designated for the highest ranking persons, while the rest were remaining on the surrounding lower space called gedan. This setup can be seen often in reception rooms inside samurai mansions and in temple guest halls.
Click on photo for higher resolution: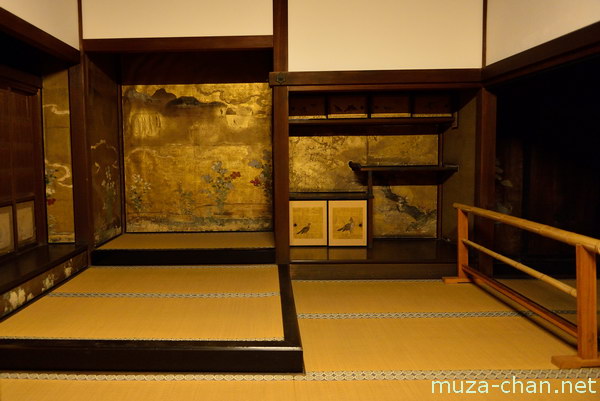 Shoren-in, Higashiyama, Kyoto
If you want to license my photos for commercial use, please
contact me
EXIF Info:
| | |
| --- | --- |
| | Nikon Df |
| | Lens: 24-70mm F/2.8G |
| | Focal Length: 24mm |
| | Aperture: F/2.8 |
| | Shutter Speed: 1/60s |
| | ISO Sensitivity: ISO 5000 |

<script type="text/javascript" async src="//pagead2.googlesyndication.com/pagead/js/adsbygoogle.js"></script>

style="display:inline-block;width:300px;height:250px"
data-ad-client="ca-pub-2096207740482379"
data-ad-slot="4353033172">
<script type="text/javascript">
(adsbygoogle = window.adsbygoogle || []).push({});
</script>
| | |
| --- | --- |
| | Yesterday's Japan Photo: |
http://muza-chan.net/japan/index.php/blo...udan-floor